Modern X - Multipurpose Presentation Template v4.0
The Last Presentation
Template You'll Ever
Need In Your Life.
Create Stunning Presentations
For Your Audience In A
Easy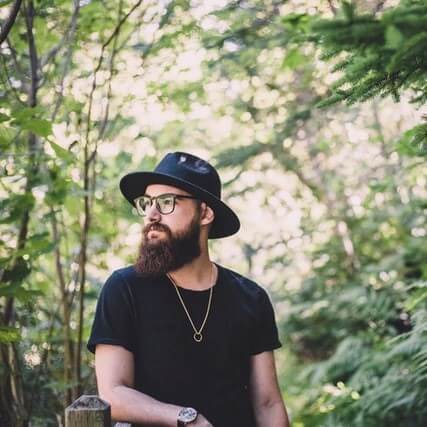 This is a really nice and crisp Presentation Template. Very easy to download and access. The information provided is a great starter for creating your Corporate presentation. Thank you and love it! A really great buy for those who are limited on time and need a template.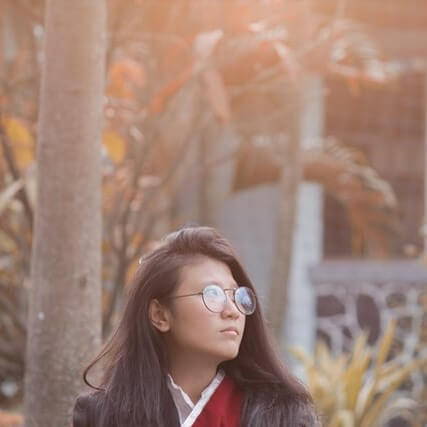 I had always hated making PPTs. But with these BEAUTIFUL and EASY TO USE templates, PPTs are kind of growing on me. And the number of compliments I am receiving at my new job for such "skills" INSANE!!! :D I absolutely love the designs. Thank you so much for this saving grace.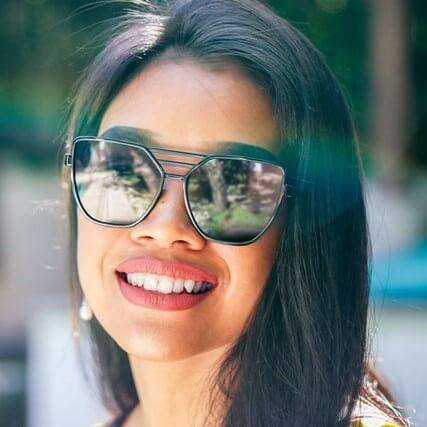 Beautiful, super sleek and modern template. And their customer service and support is absolutely outstanding. They were super responsive and walked me through the technical aspects of how to use the template most effectively (which was really simple).
Ready-to-use templates for your slide presentation
Slides Built Using
Our Template
Let's be honest. Creating a beautiful presentation is hard. Especially when you're not a designer or non-technical
Nobody likes making presentations, it's time demanding, you put up all this effort and oftentimes you can't figure out why your slides don't look better, in other words, notoriously bad. After several years of creating 1000s of presentation slides for our clients, we had enough.
We decided to create a beautiful and easy-to-use multipurpose presentation template. This template is the evolution of all presentations template that can be used to create presentations for a different type of fields such as Business, Corporate, Pitch Deck, Portfolio, Agency and many more. Our aim of designing this template is to help you create a professional and winning presentation, quickly with minimum effort. It provides a tailored and considered set of designs and slides that makes decision making easier.
Now, creating presentations made easy like never before.
Your idea deserves a brilliant presentation.

Never start a presentation from scratch. Use our template to speed up your workflow.
Save thousands of dollars from hiring a presentation designer/freelancer.
Not a designer, No problem. Our template is extremely easy to use and edit.
Well-made presentation
templates for all fields
Powerful, effective, and customizable to your needs.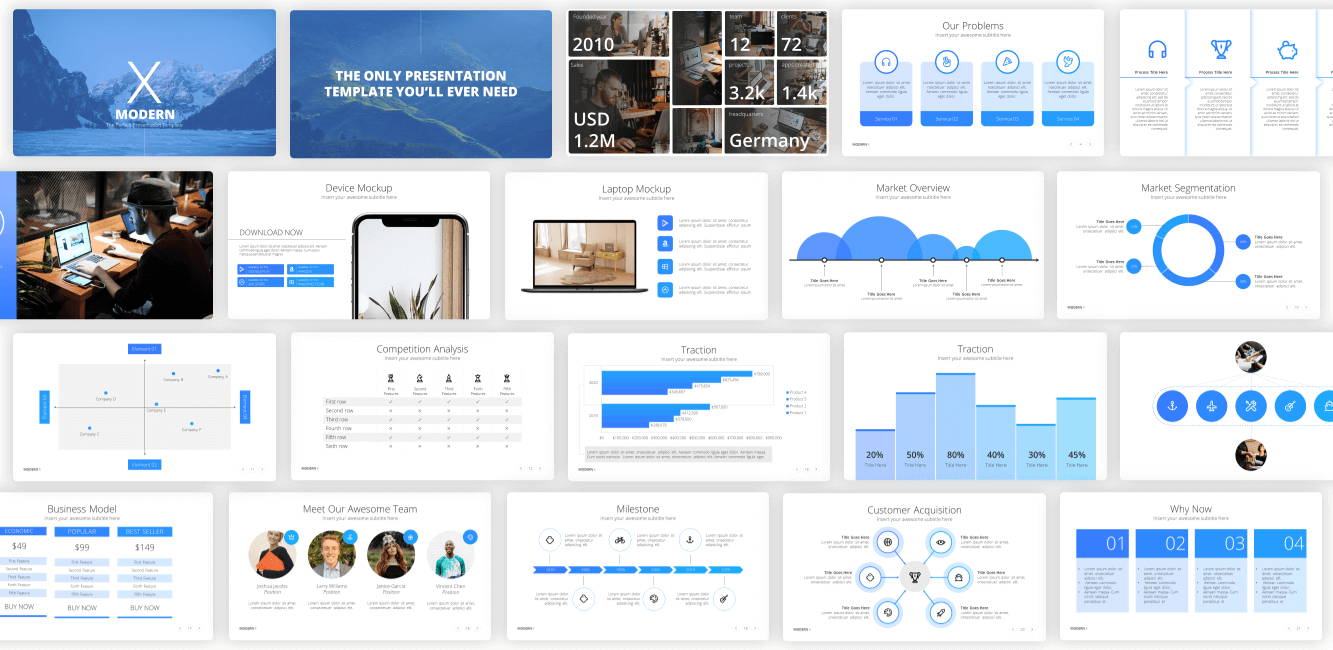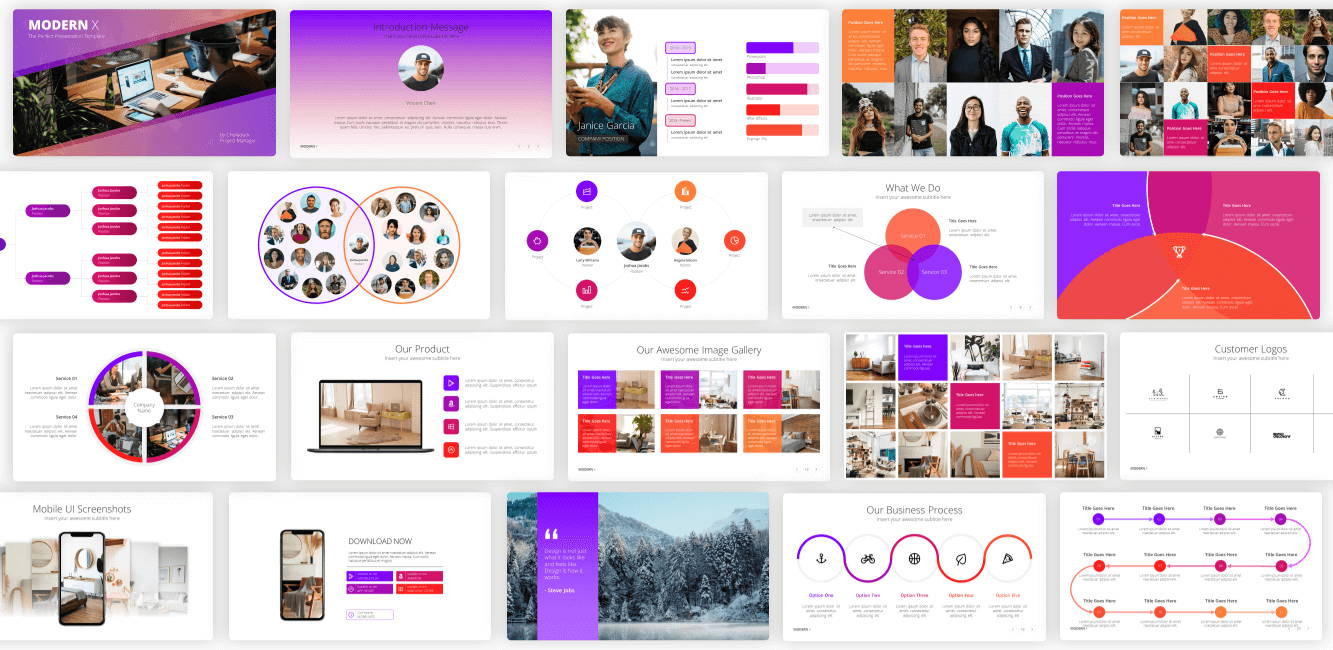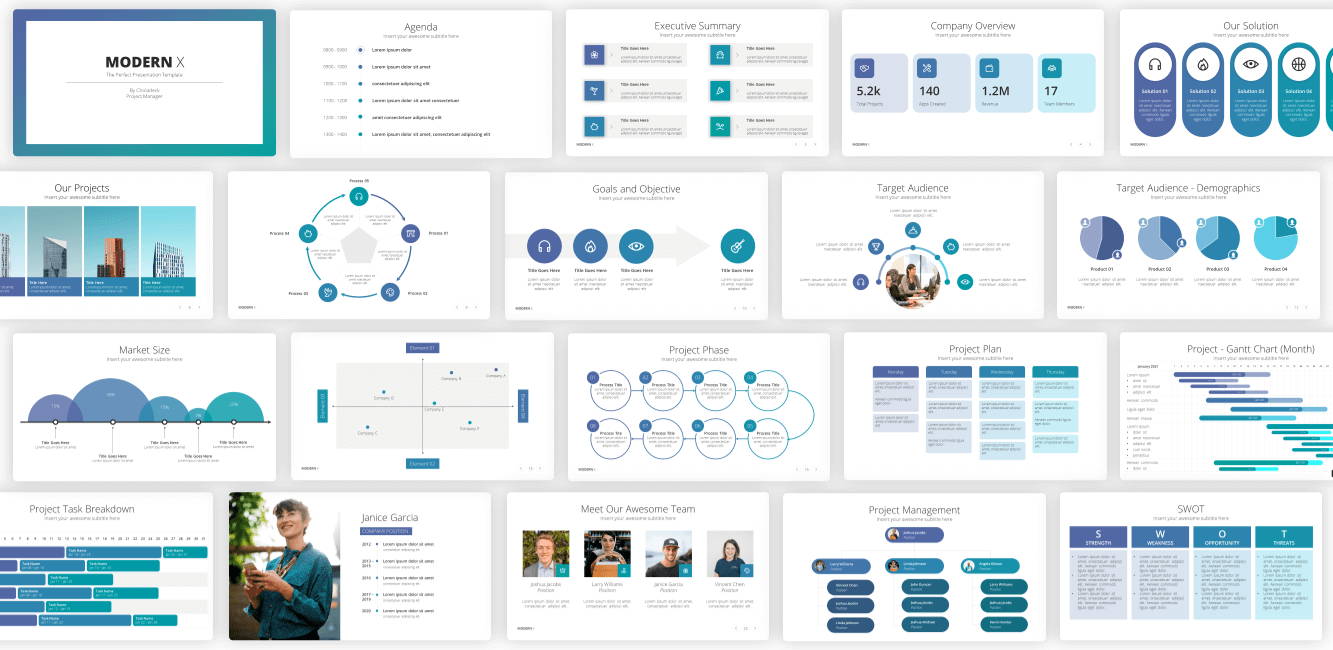 Receive Lifetime Access and Updates
to Over 1034+ Slides Today!
One-Time Payment & No Recurring Fees
Choose From 1034+ Unique Slides
Create endless presentation slides by mixing & matching our thousands of pre-built templates.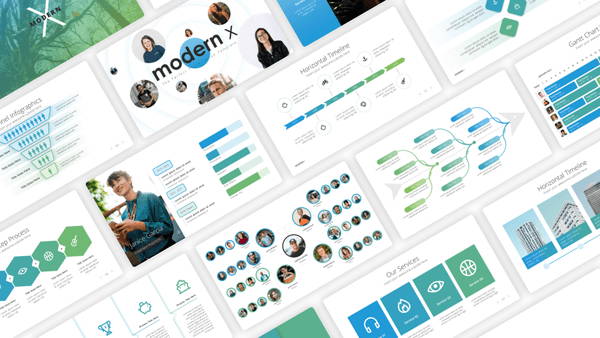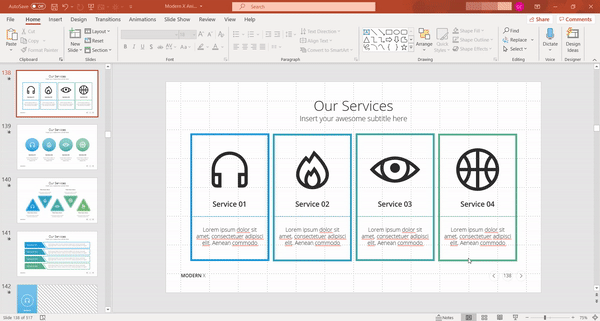 Fast & Easy to Edit (Master Slide)
Not a designer? No problem. Editing the template is easy peasy. Replace the placeholder with your content to get a stunning slide.
Drag & drop your images into the placeholders to quickly add your image into the slide.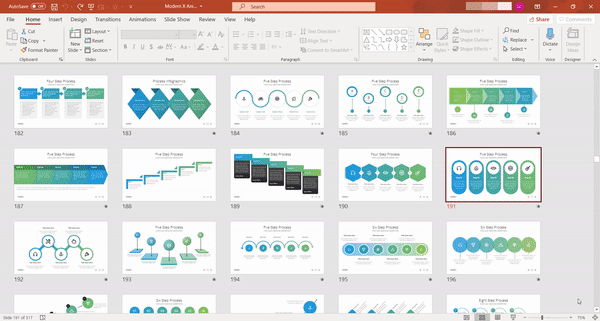 Change your slides theme colors in one click to match your brand and business.
All slides included in the template comes in both Light & Dark Theme.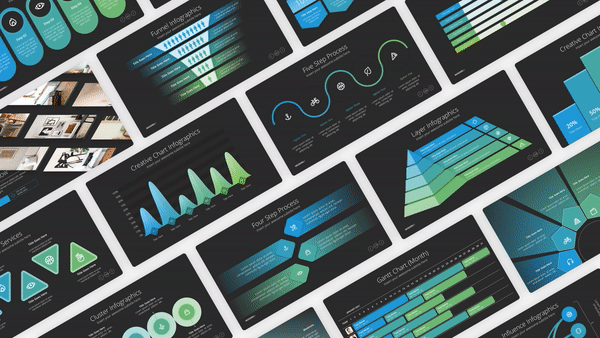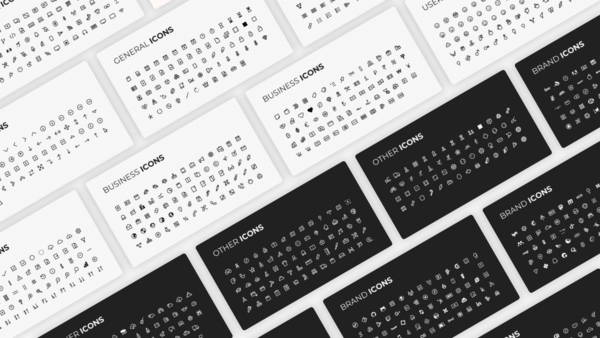 Neatly organised vector icons provided for you to supercharge your presentations.
Instantly make beautiful pictures with pre-made gradients using our Gradient Maker.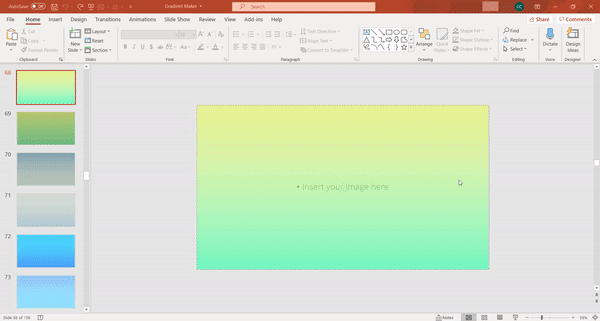 All future template updates are free. Nothing to pay, ever again!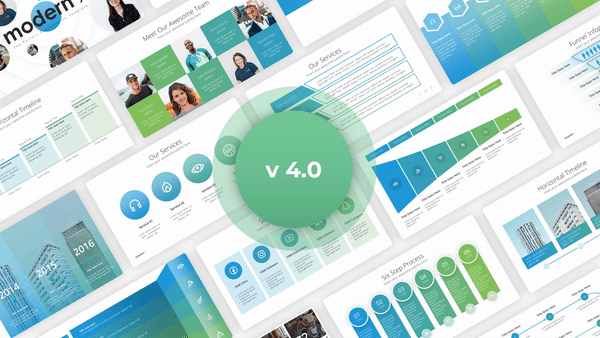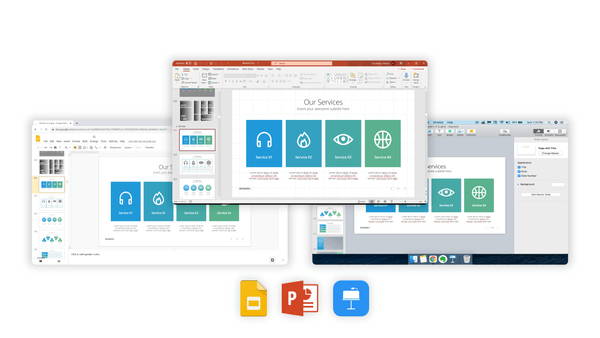 Slides Compatible With Your Favourite App
Our templates are versatile and work seamlessly with the most popular formats.
Bring life to your slides. Wow & impress your audience with animated presentations that stand out from the crowd.
Ready to use Pre-made Colors To
Match your brand & Business
Change your slides theme colors in one click using our 60+ pre-made colors.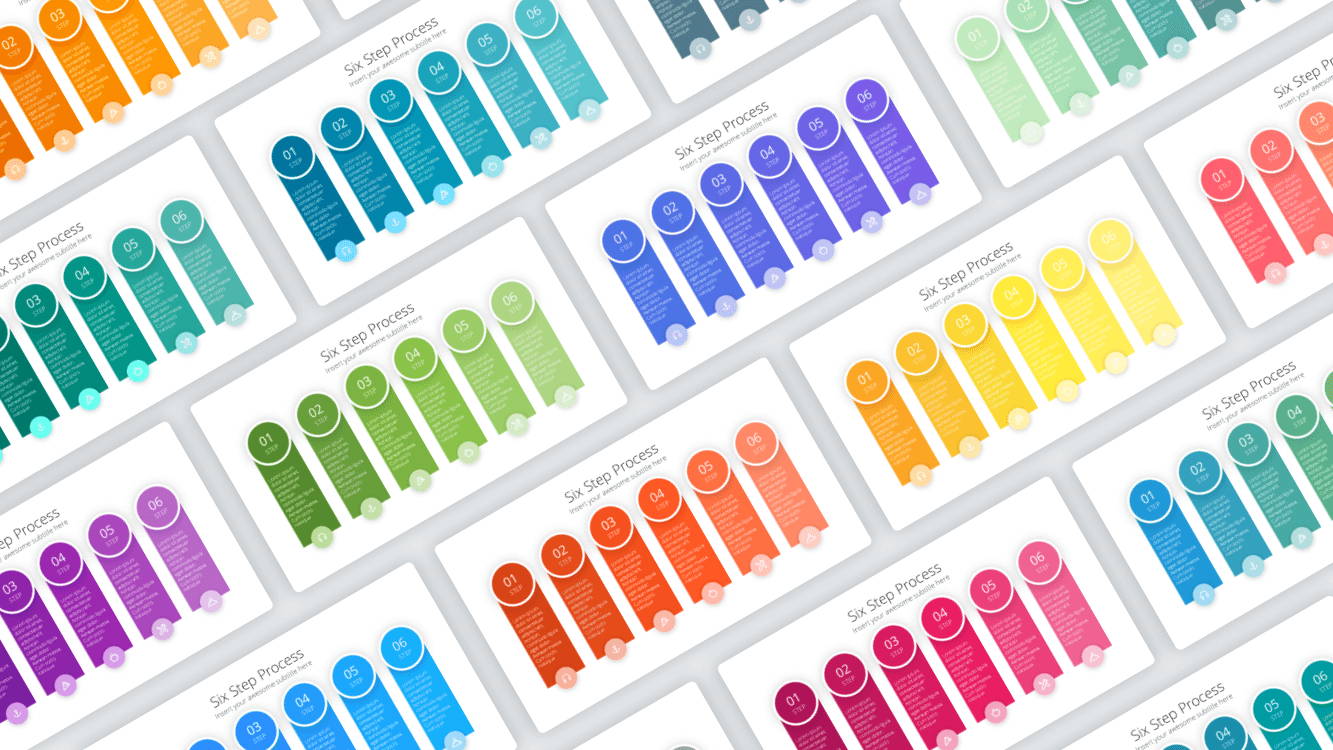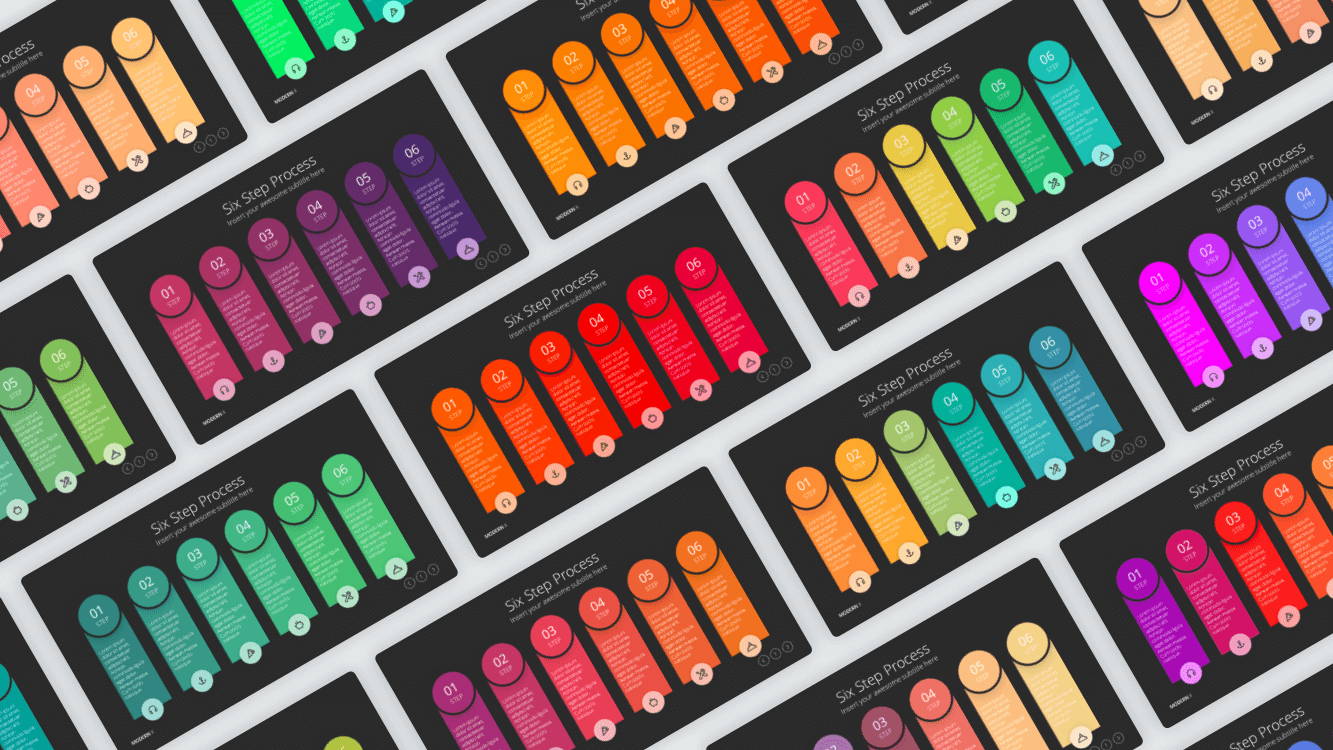 Having access to these slides have made it more fun to develop a slide show for executives in my company. The fact that the templates are fully editable have made it easy to match the colors scheme to the standard templates used. I actually look forward to using new slides from this collection each time a new presentation is needed.
Everything you Need to
Create the Perfect Presentation
with 1034+ Slides in 35+ Categories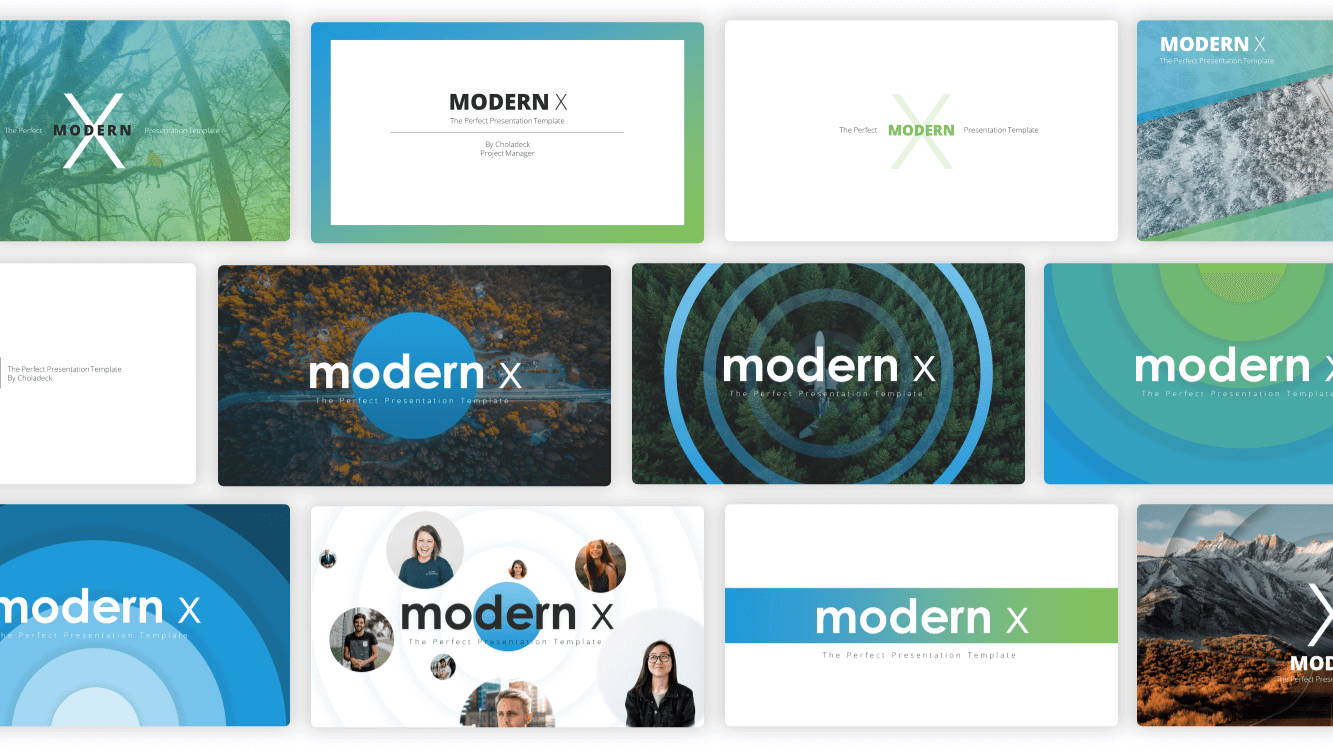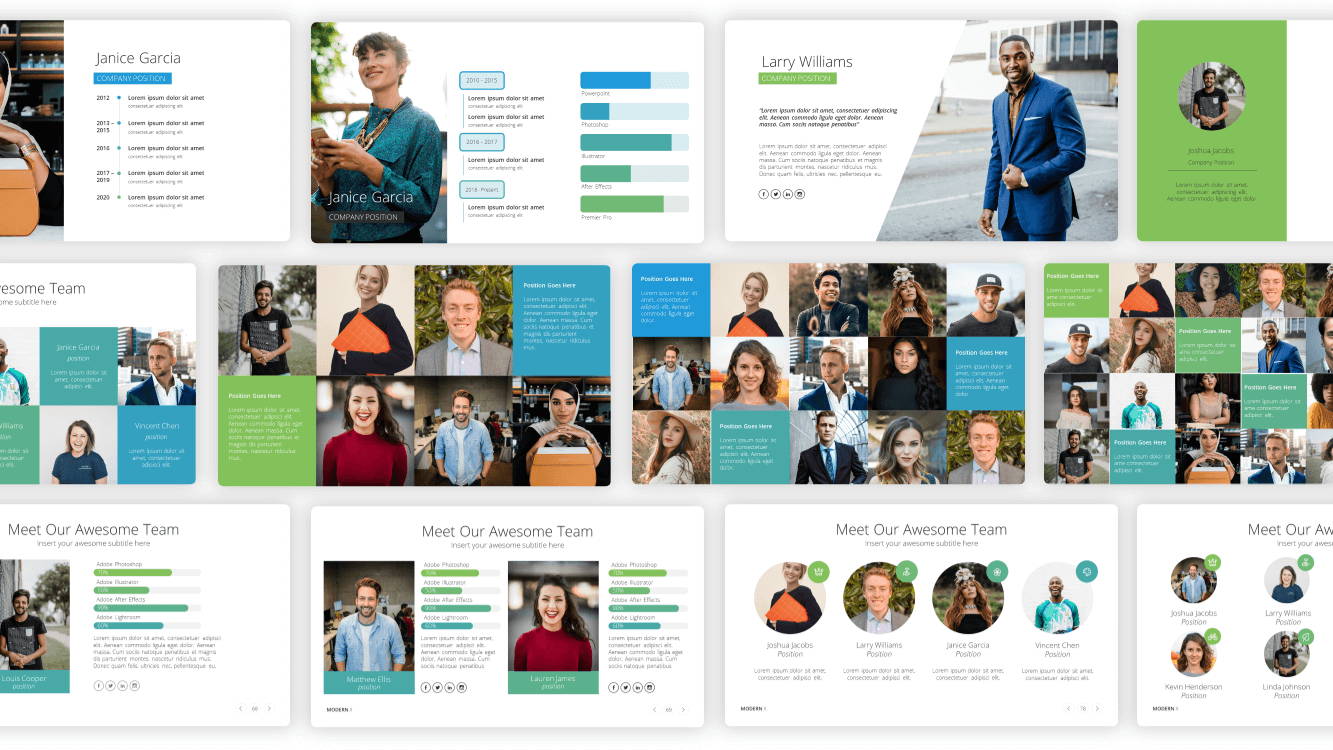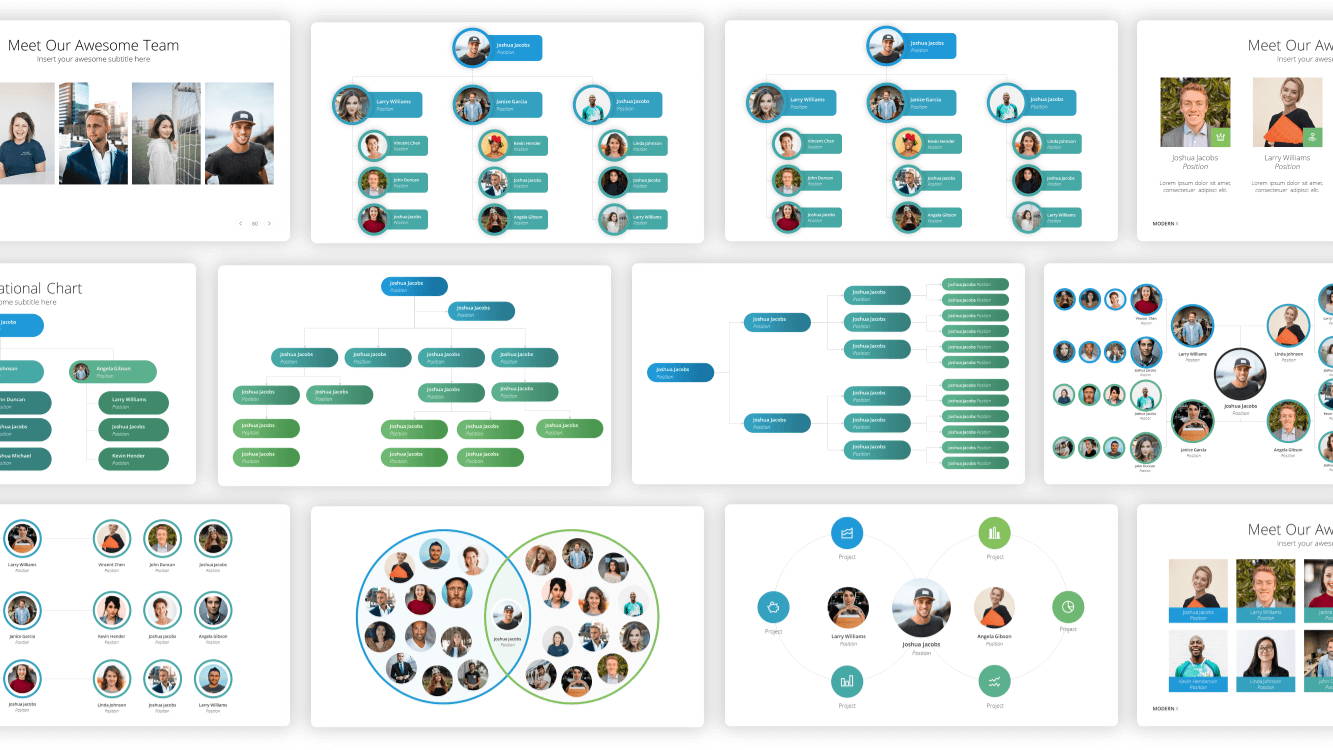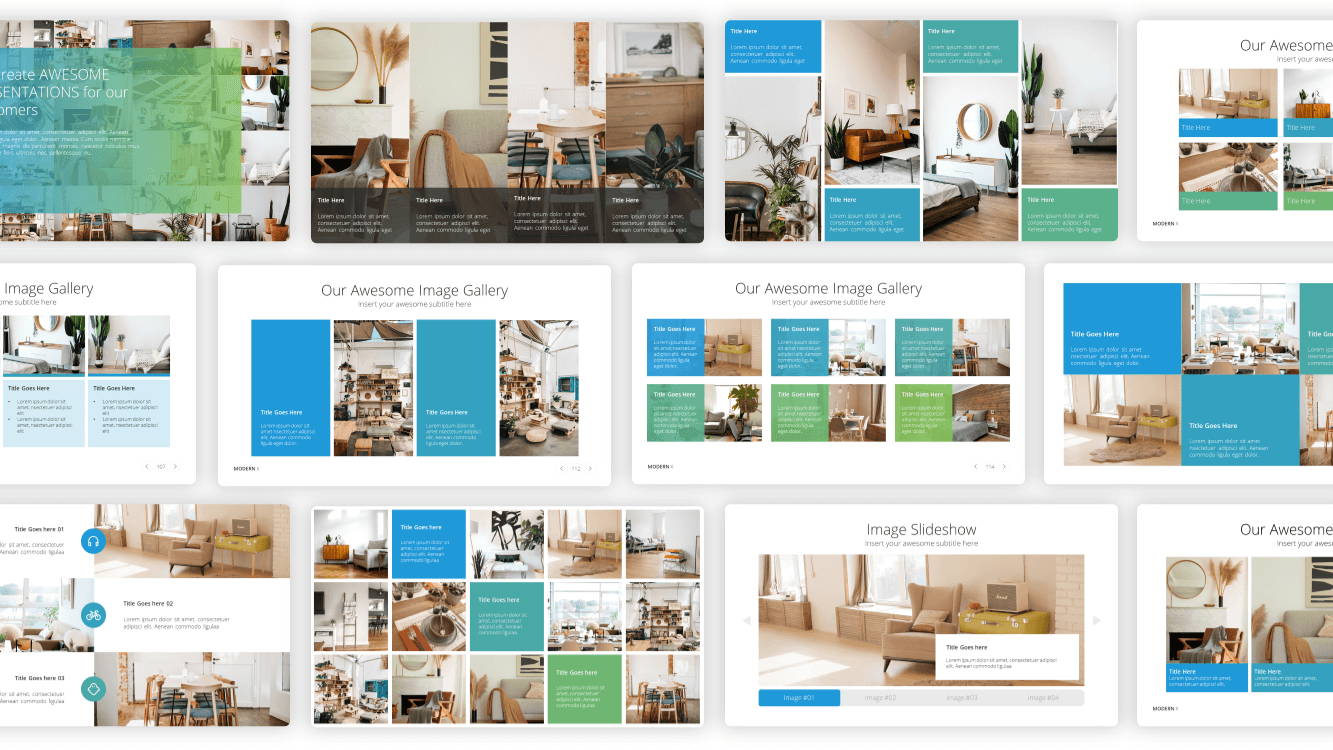 Image Gallery - Portfolio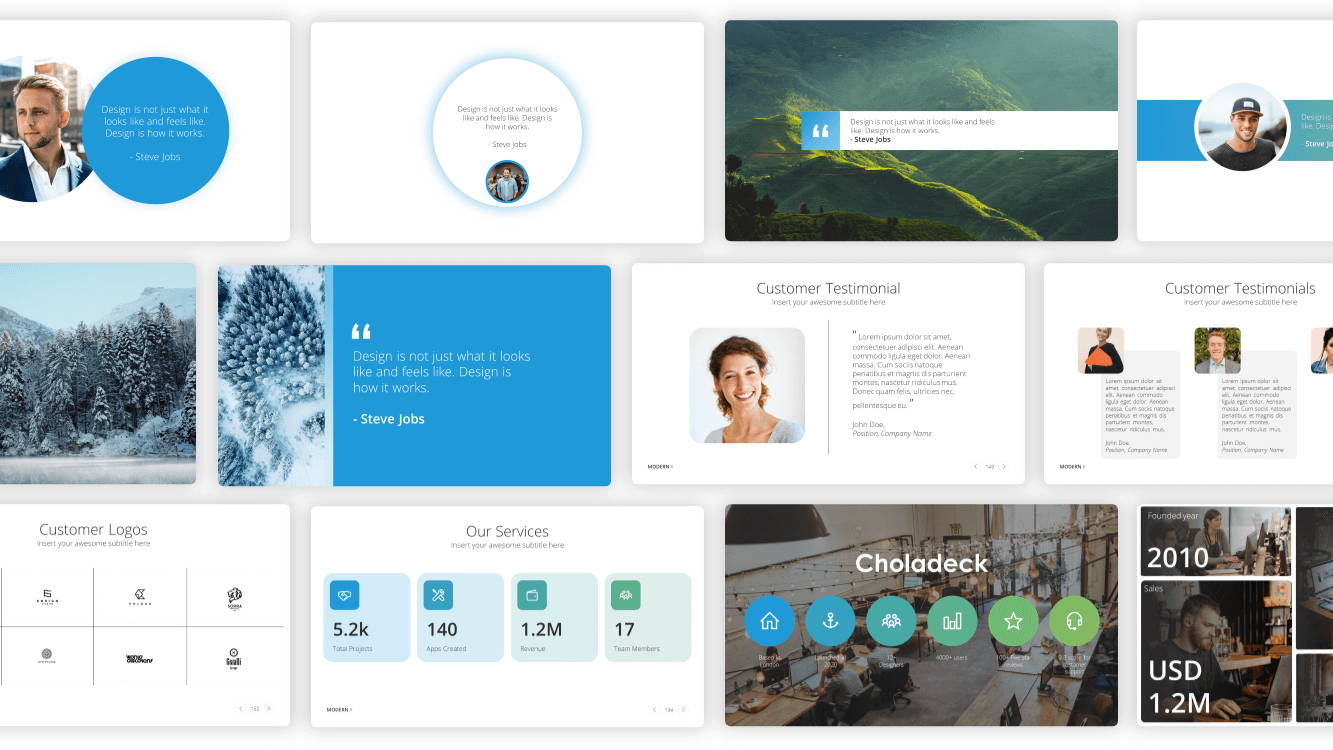 Quotes - Summary - Clients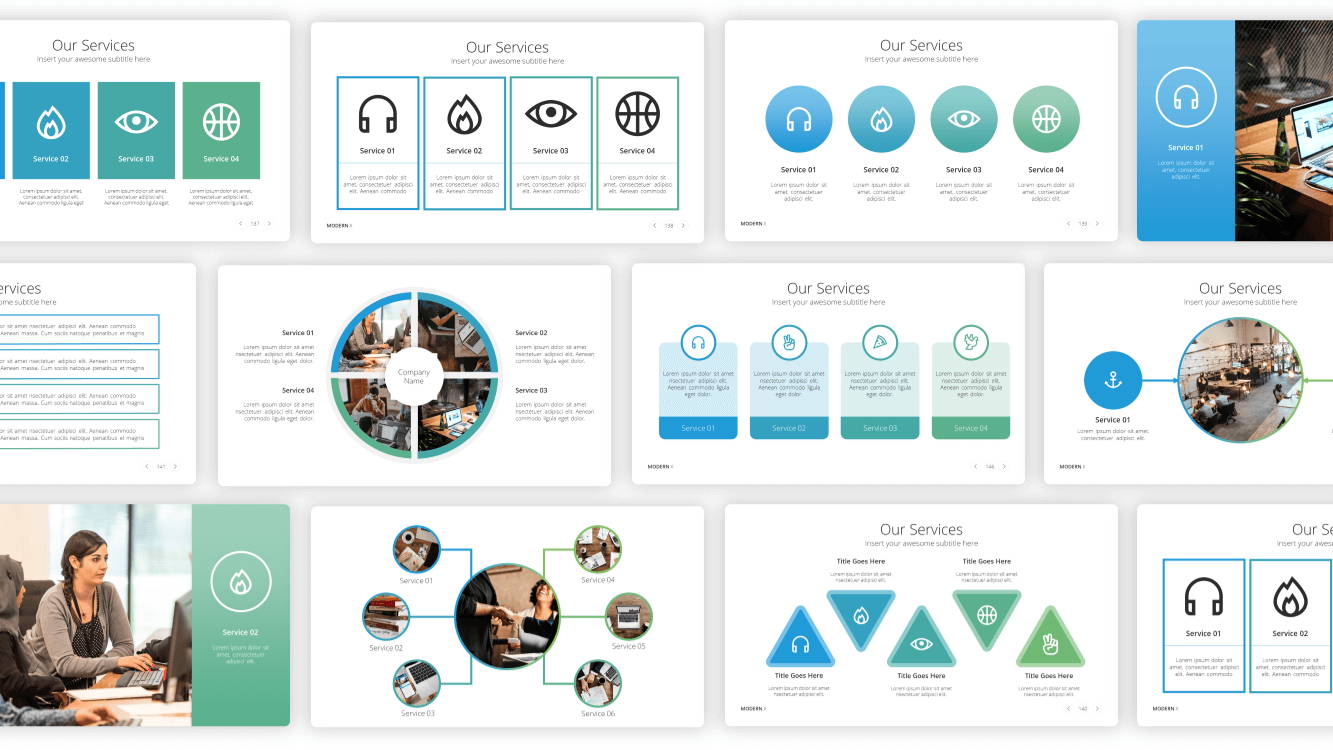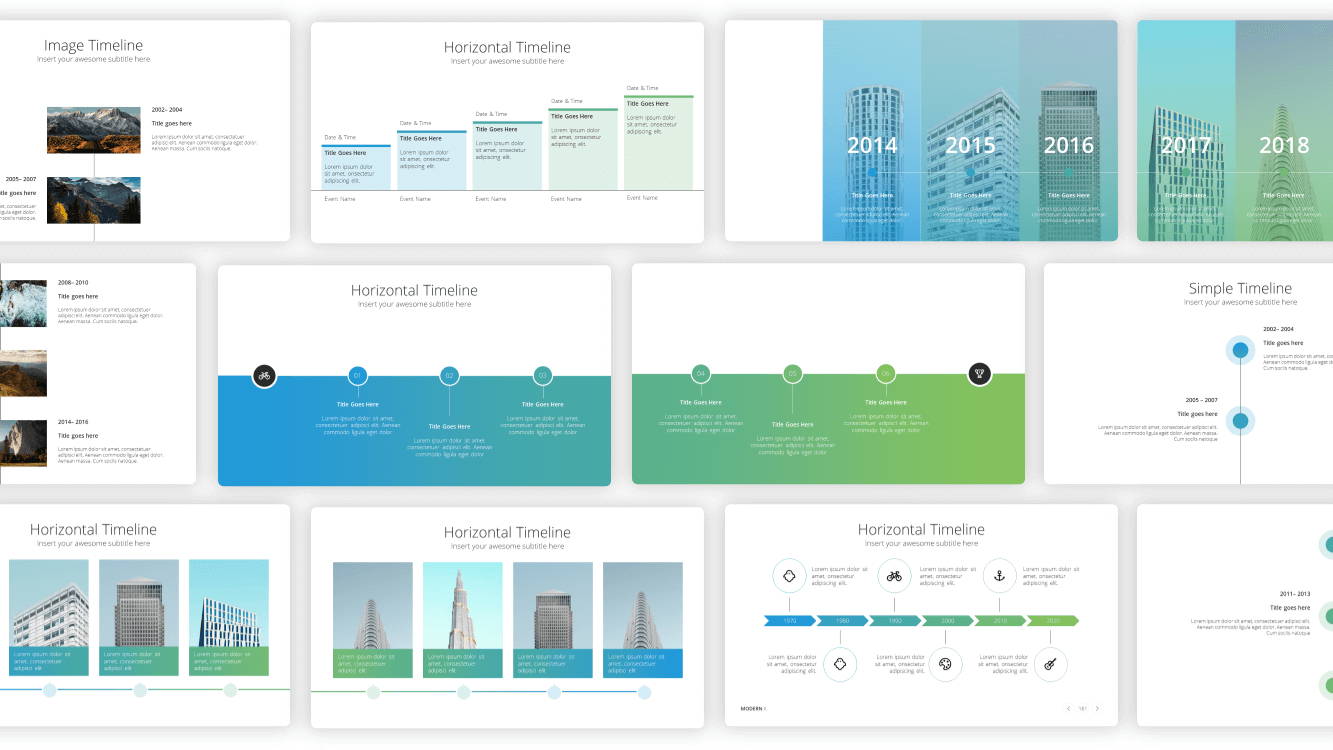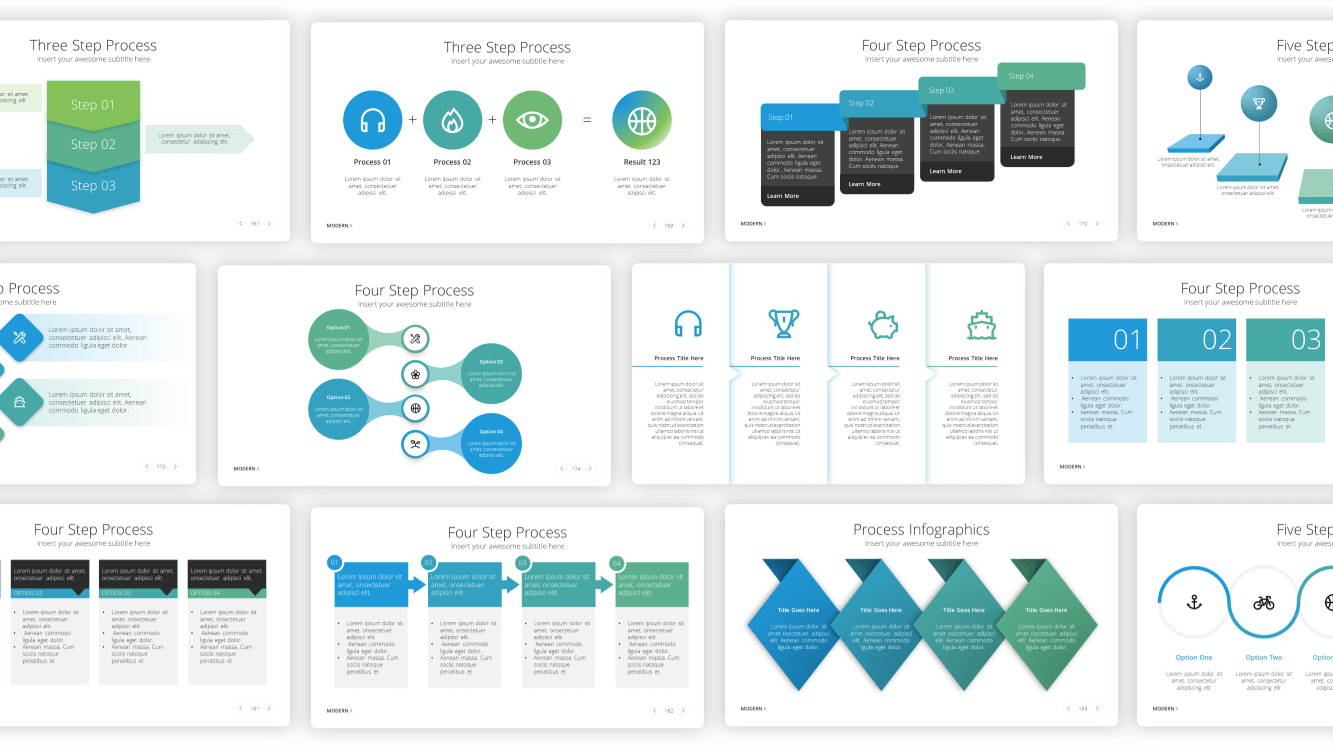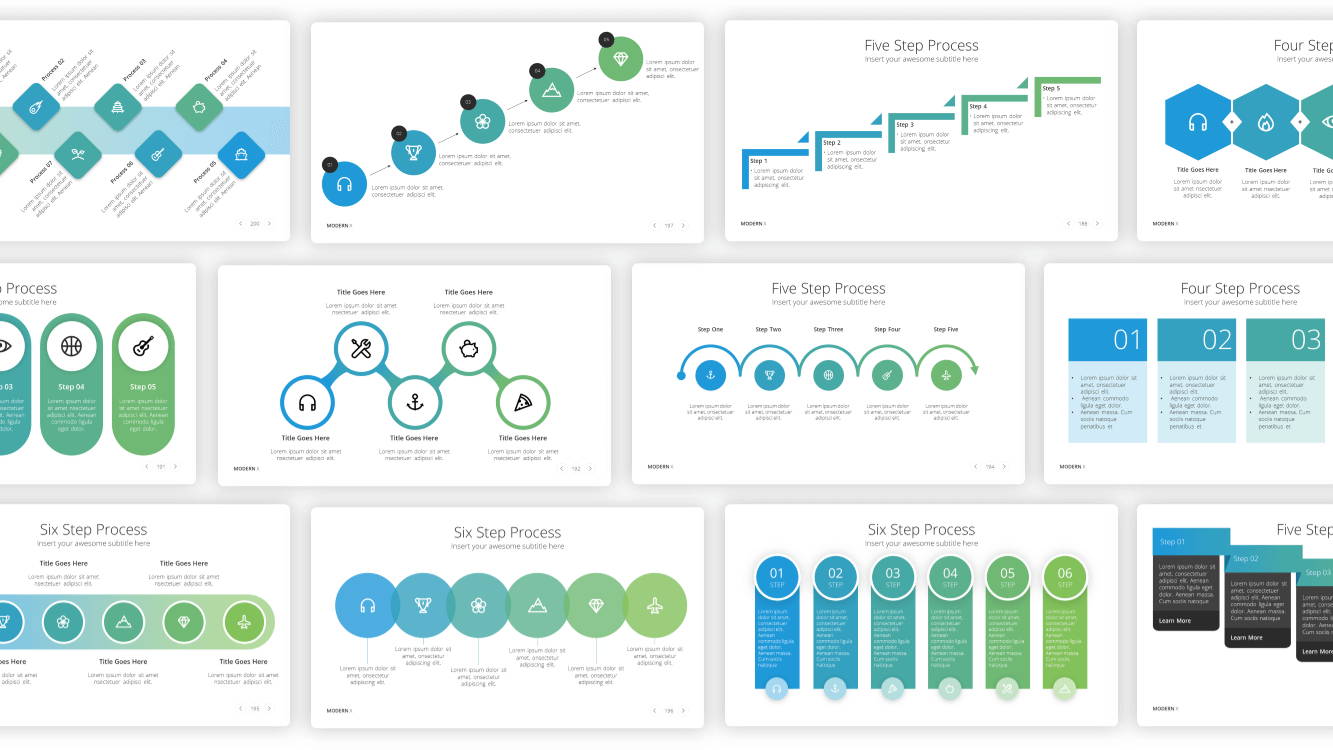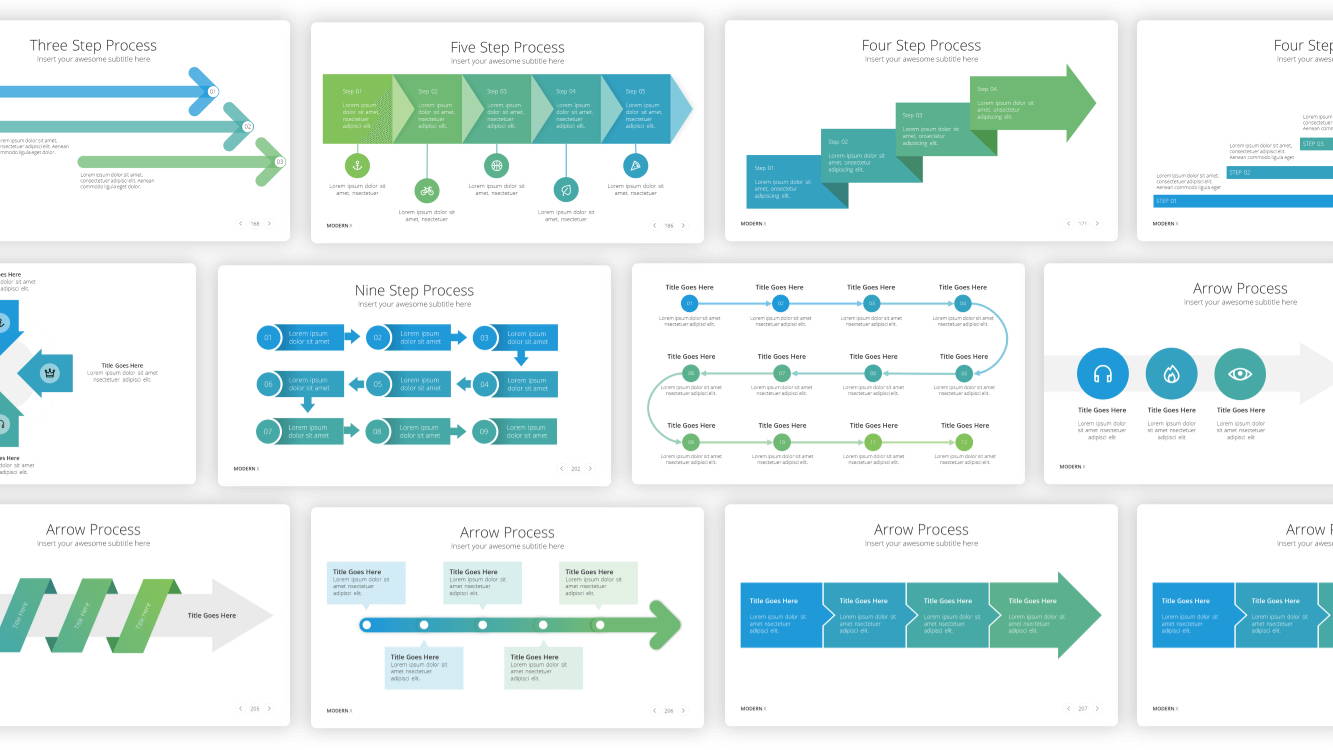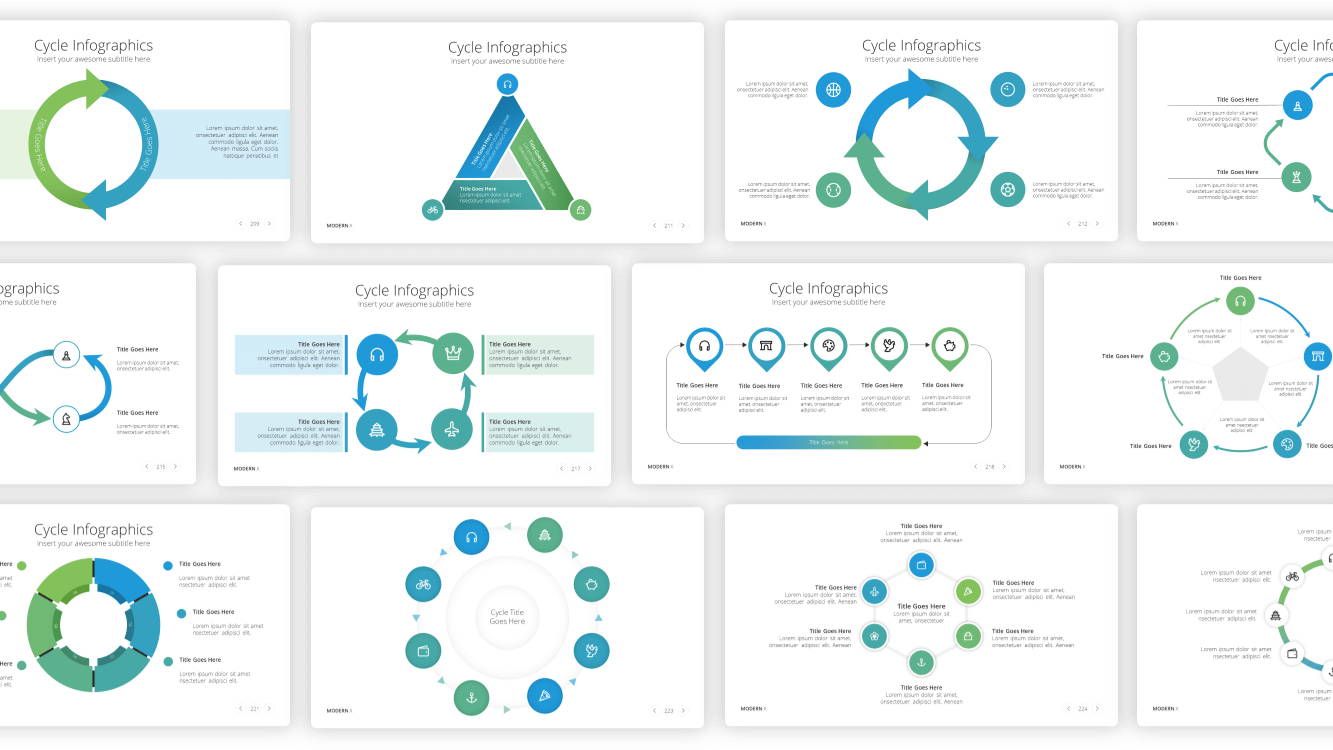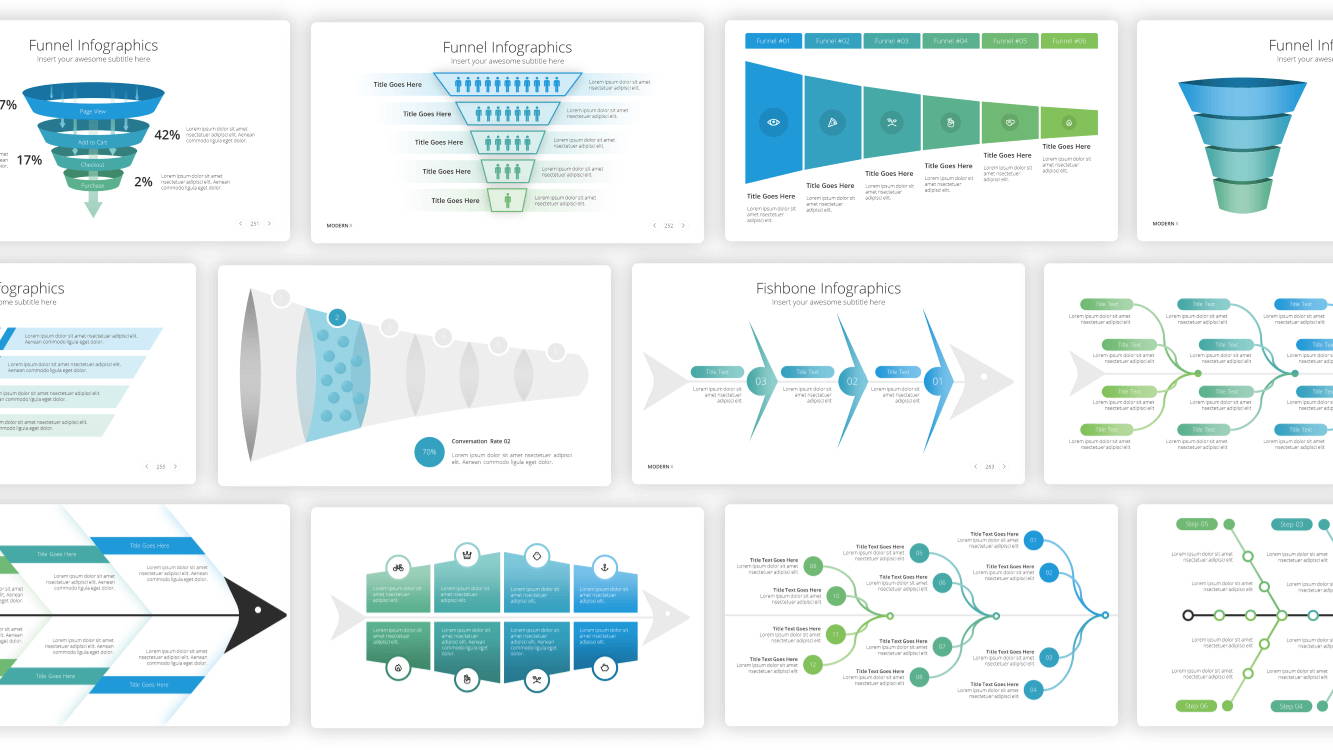 Infographics - Funnel - Fishbone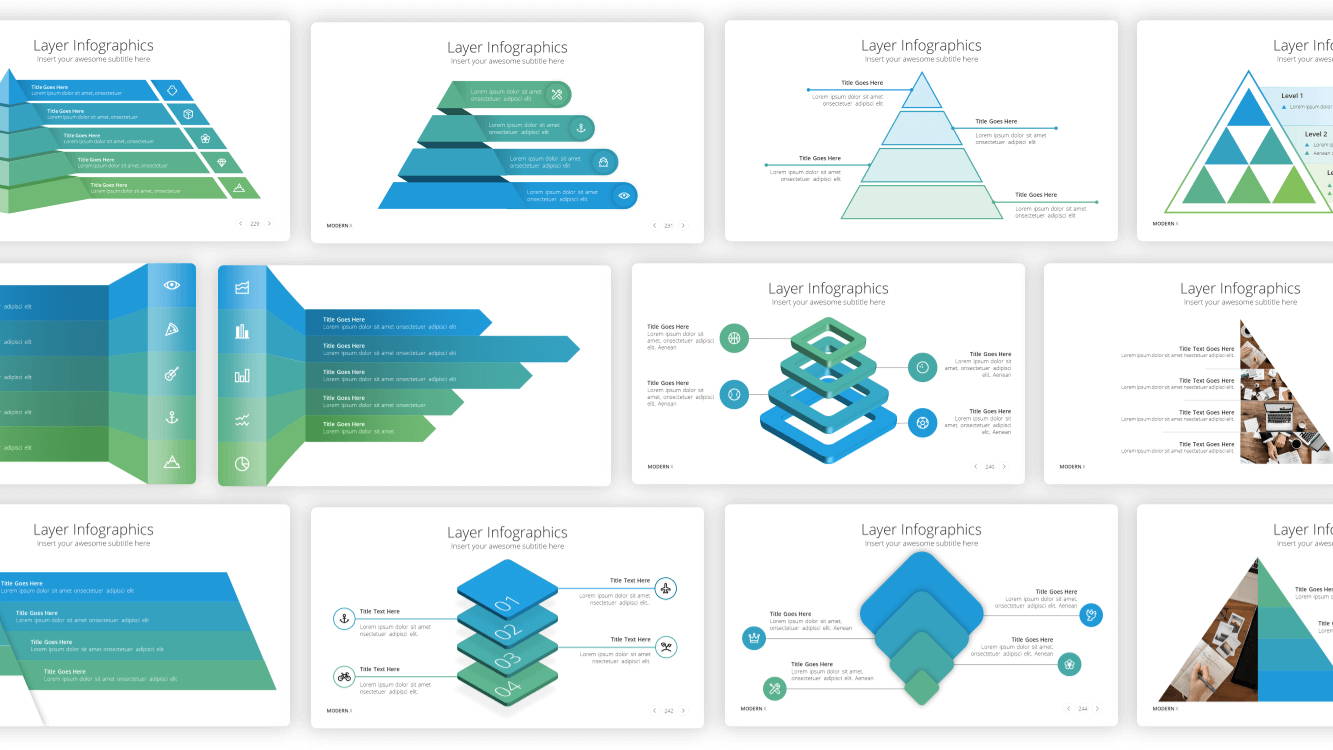 Infographics - Layer - Pyramid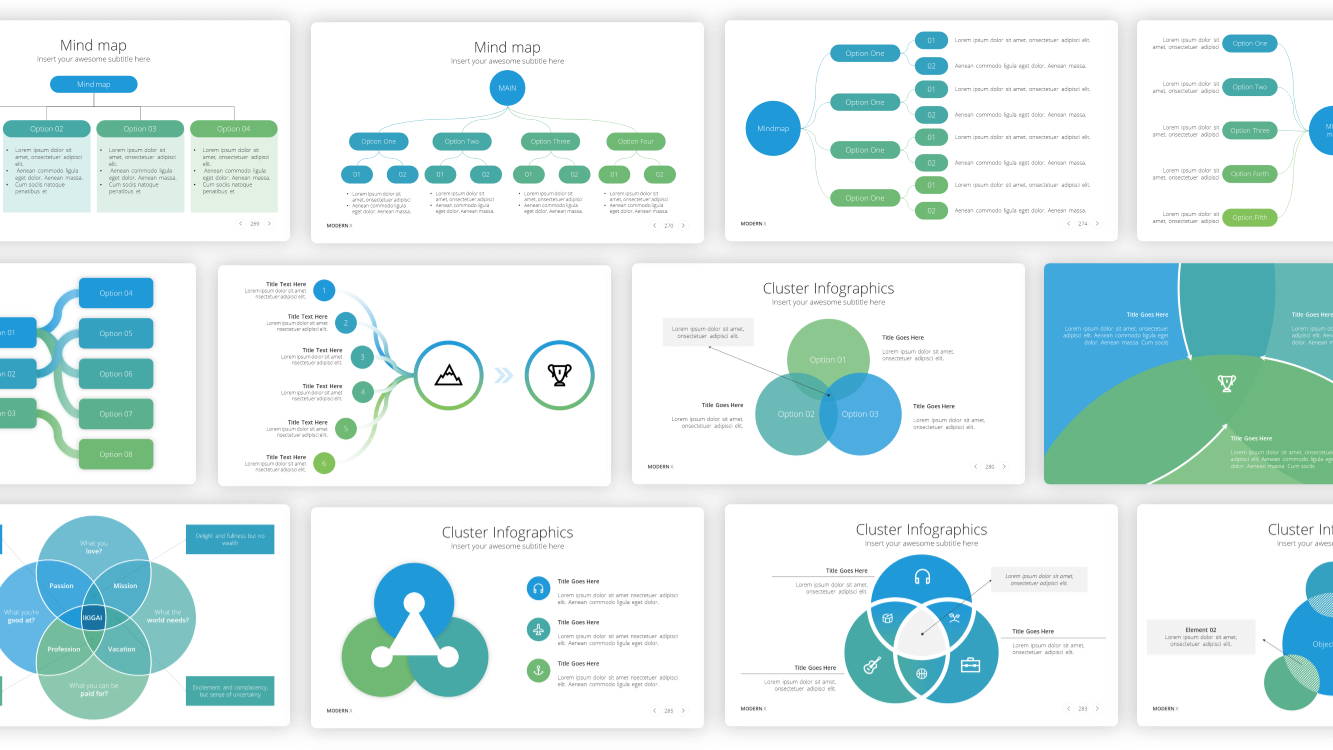 Infographics - Mind-map - Venn Diagram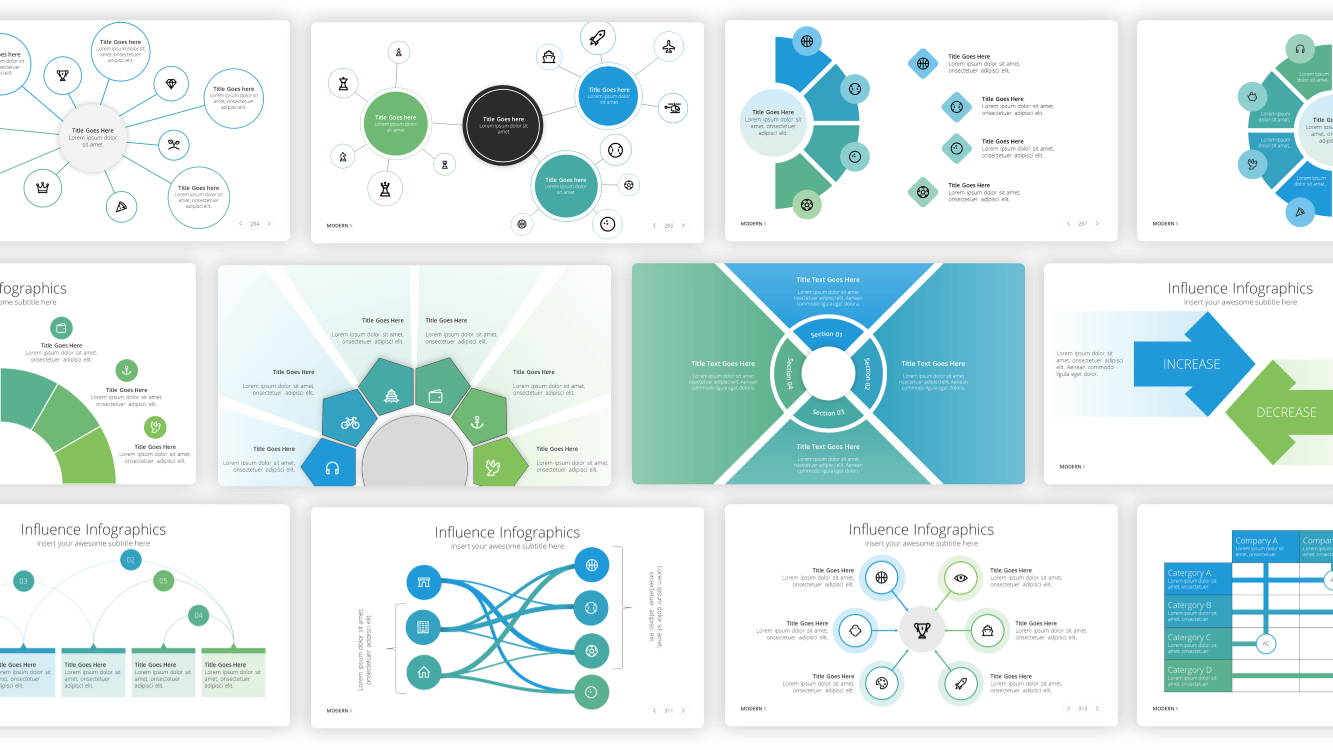 Infographics - Radiate - Influence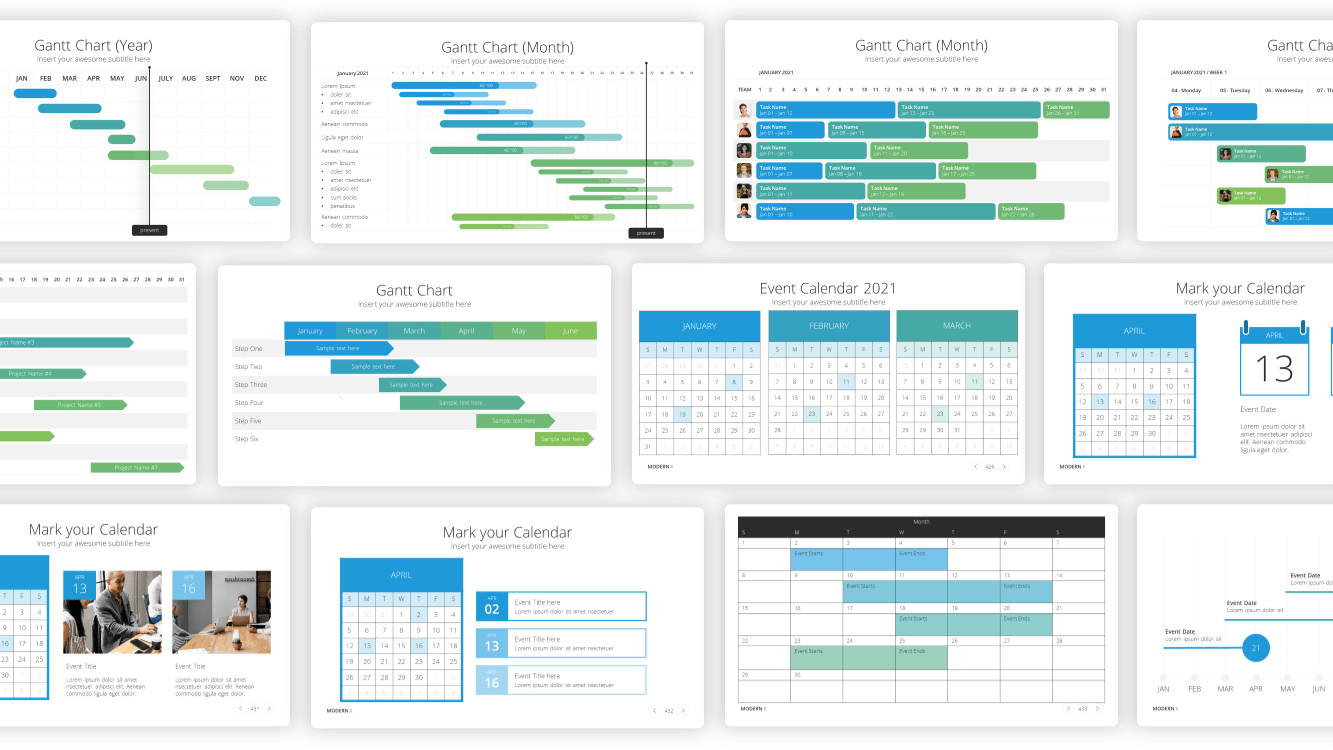 Gantt Chart - Date - Events
Social Media - Demographics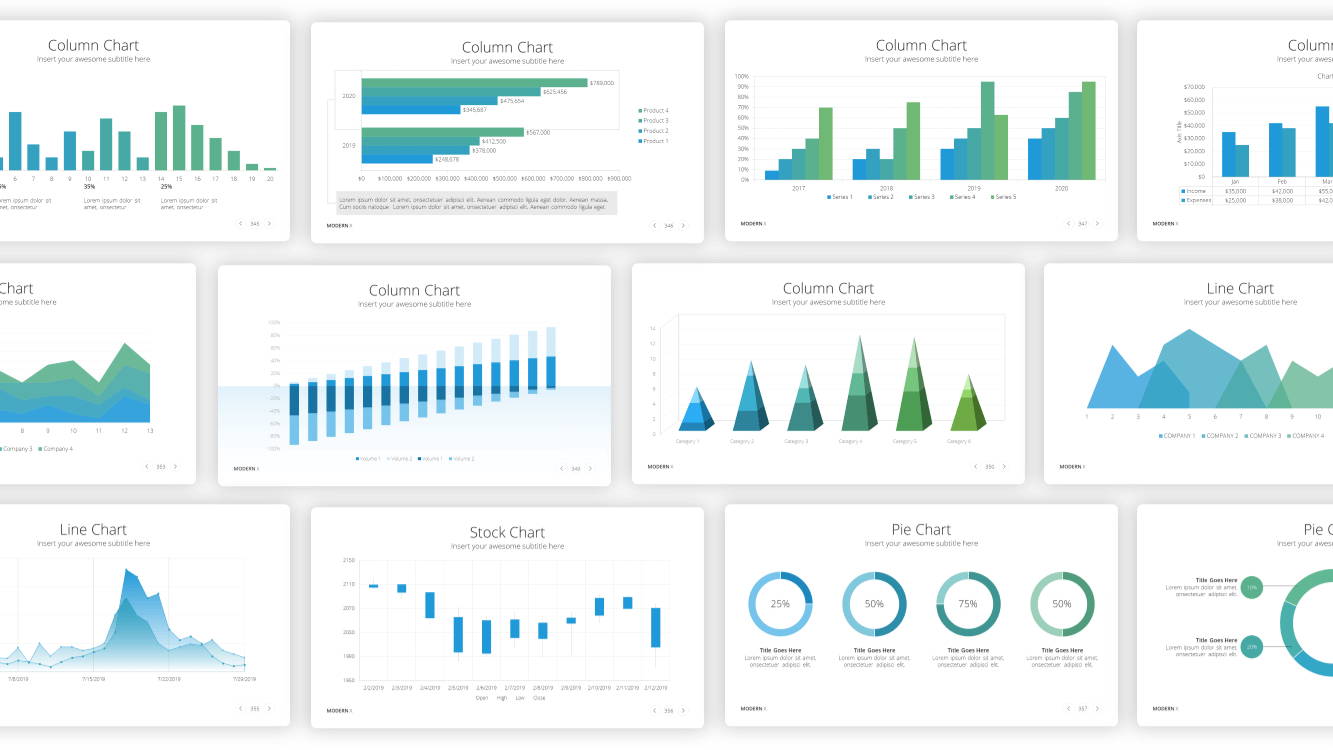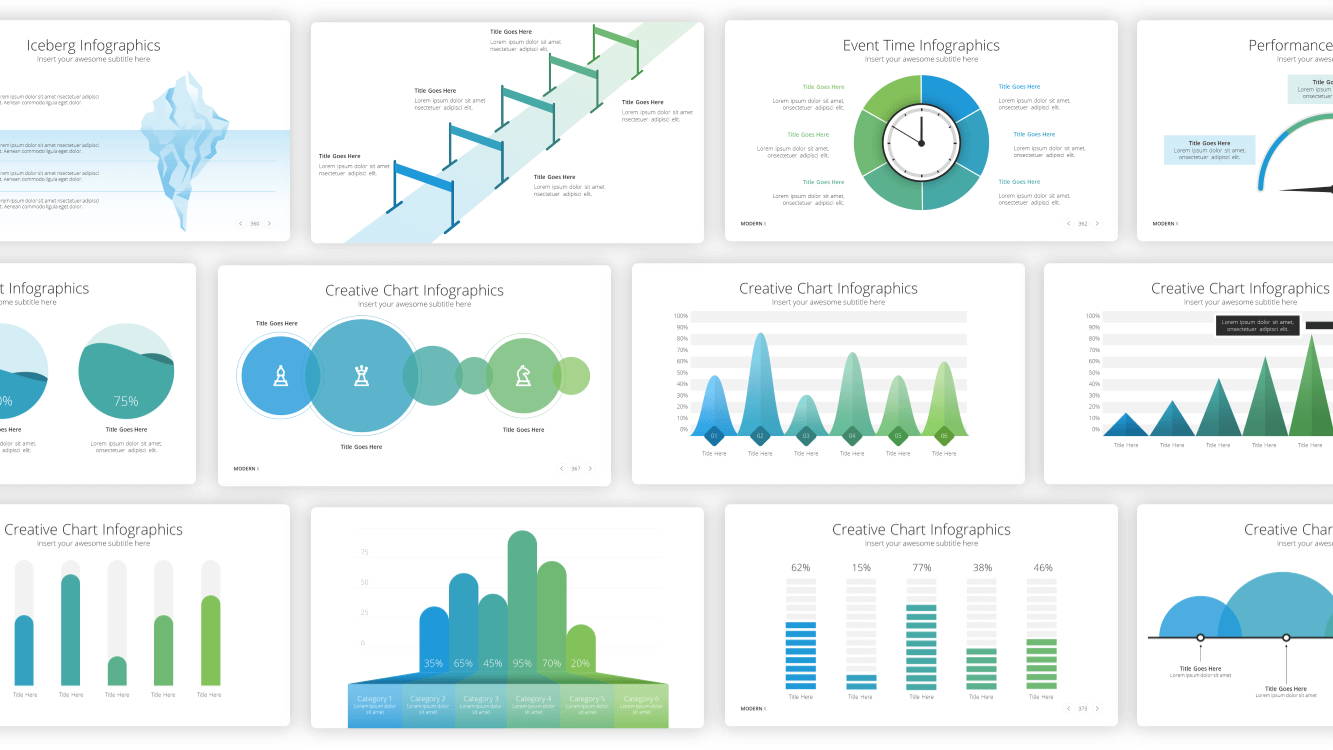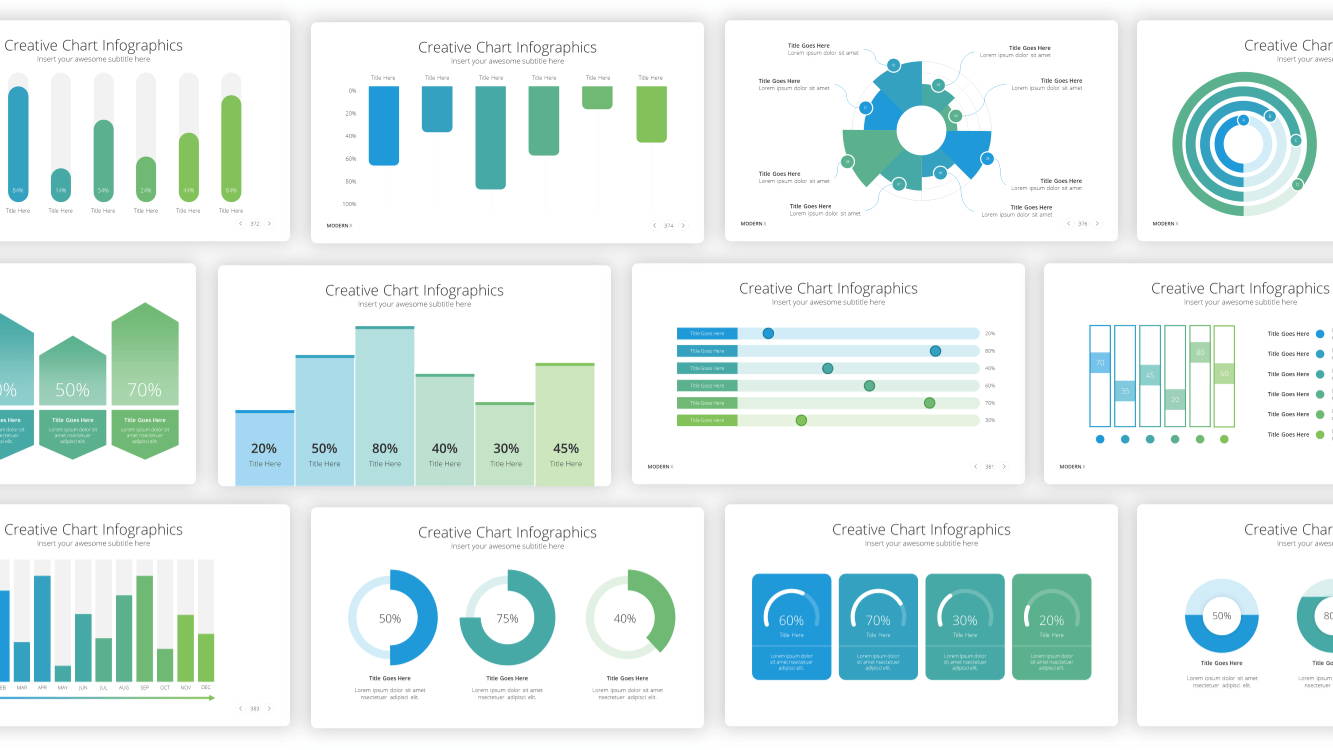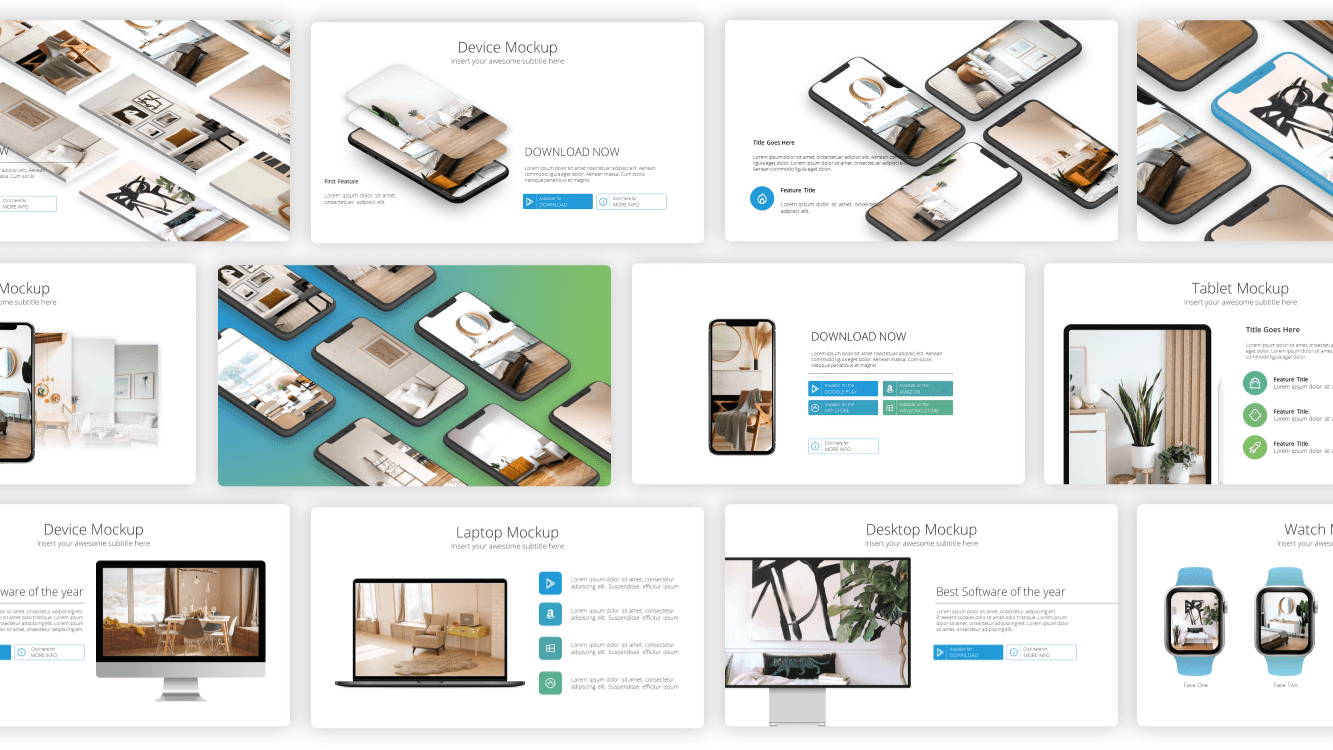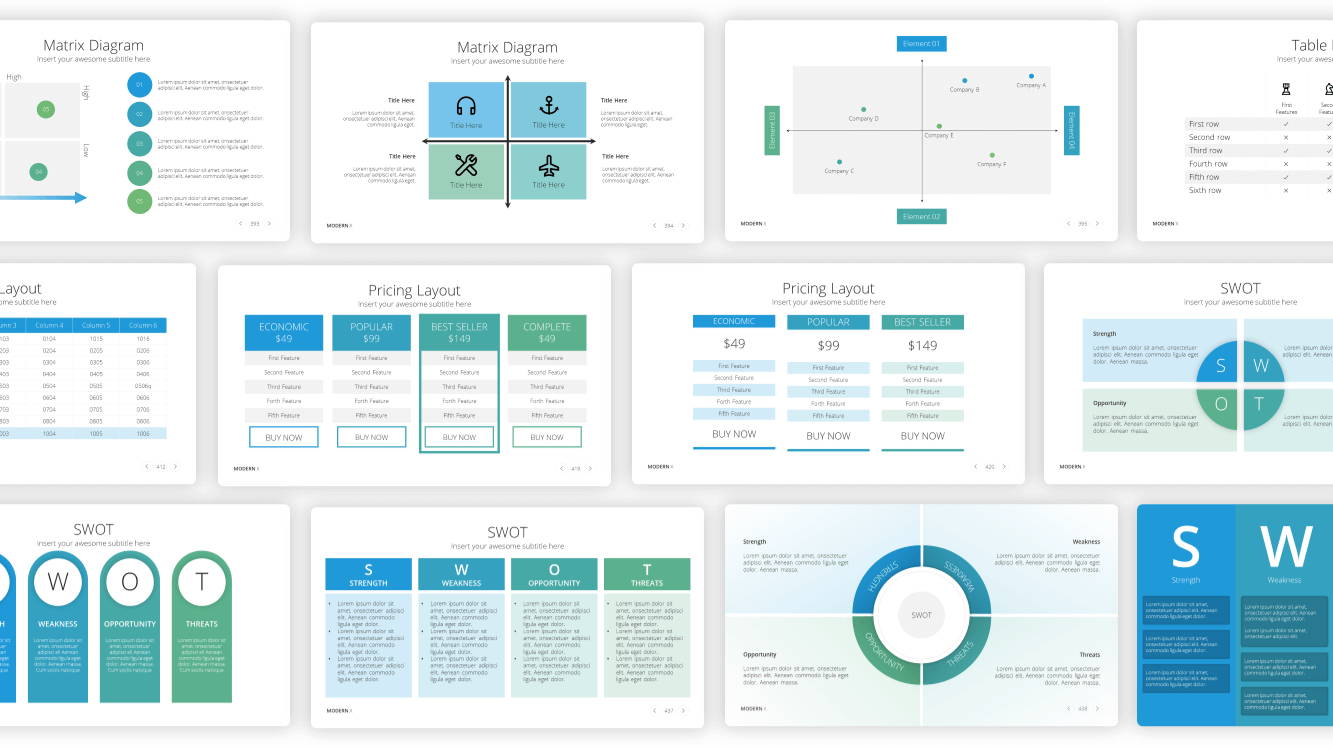 Matrix - Competition - Pricing - SWOT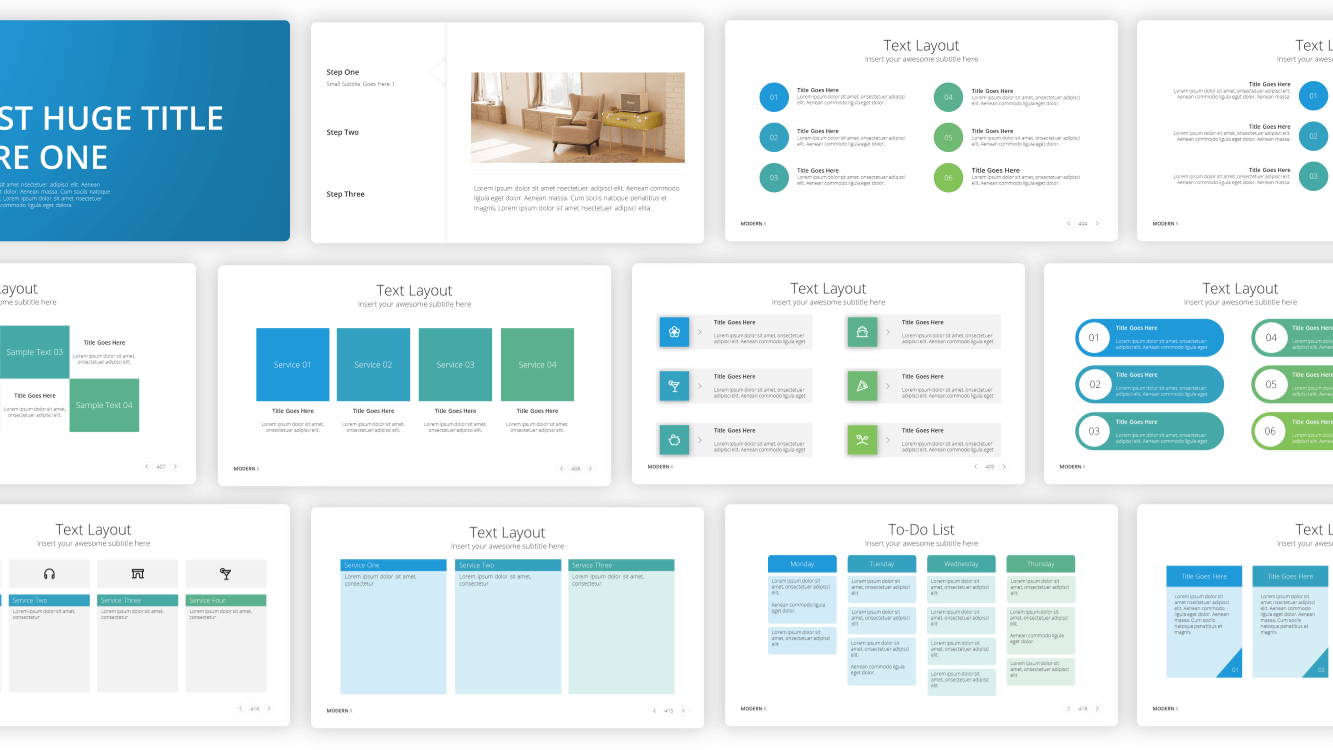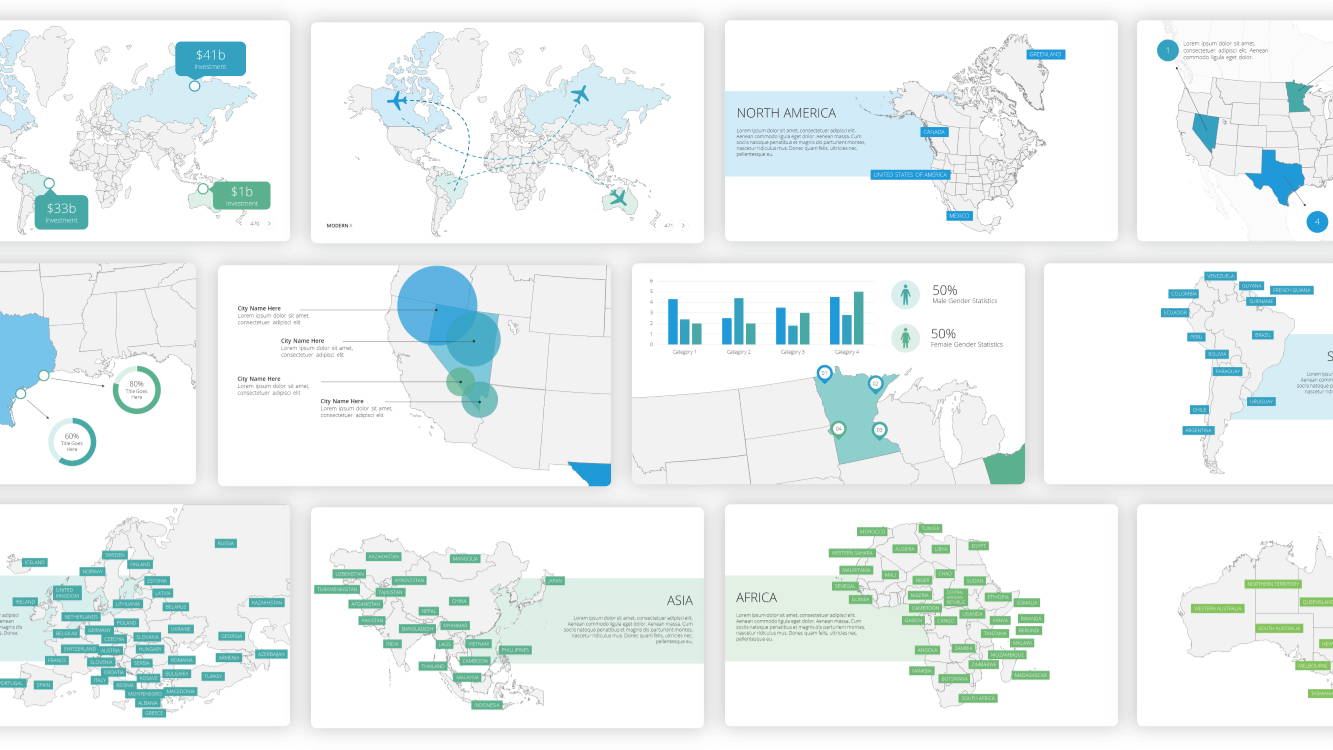 Maps - All maps are included
Why choose Modern X template?
Reasons why you'll need Modern X template more than you ever think
Professional and modern presentation design puts people at ease and ensures you stand out from the competition.
The consistent design takes your audience on a journey and maintains engagement right through the last slide.
A well-designed presentationhelps people to focus on big ideas and not get stuck on the little details.
A template that is very forgiving and easy to use, makes you want totry designing presentations without restrictions.
Receive Lifetime Access and Updates
to Over 1034+ Slides Today!
One-Time Payment & No Recurring Fees
Frequently Asked Questions
The frequently asked questions regarding our service and product.
Is this a monthly subscription or is this a one-time payment?
All the template that purchased from us is a one-time payment that will allow you lifetime access.
How can I download the product I just purchased?
Once you purchase the template, you will be redirected to the thank you page where you can download the template. You will also receive an email with the download link.
Additionally, you can an account using the SAME email used at purchase. After creating the account, please check your inbox for an automated email that contains an activation button.
Ta-da! You may then download directly from our page. Thanks for choosing Choladeck!
I don't have any design experience. Can I really create beautiful presentations?
You bet. In fact, thousands of non-designers have used our template to create beautiful content that brings real results.
What's included in the presentation template?
Our template includes 1034+ unique slides in 3 formats (Powerpoint, Google Slides and Keynote). All divided into 35 categories. 1,000+ icons in Powerpoint, Google Slides and Keynote format. Free updates and access for life.
What is the template compatible with?
Our template is compatible with PowerPoint, Keynote and Google Slides.
Which methods of payment do you accept?
We only accept Credit/Debit cards and Paypal.
How will I receive new updates?
You will receive an email notification when a new update is ready.
How can I get a copy of my invoice?
Please chat with our support team so we can send you the copy of your invoice to your email.
Are the Charts linked to Excel?
Yes, they are! ALL our charts are linked to Excel spreadsheets for your convenience. Quickly input data points into excel, and watch our charts automatically update, saving you time, effort, and a headache!
What to do if the slides that I'm looking for is not included in the template
Worry-free, you can contact us for a custom slide request for free that will be fulfilled within 48-96 hours.
Is the template easy to use and do you provide any guidance?
This template is extremely easy to use, and we have also included in-depth video tutorials on how to edit the template easily. and still if you have any problem, you can always contact us at support@choladeck.com
Don't just take our word for it…
Hear what satisfied customers have to say
Customer Reviews
Professional slides I need for my presentations! They make my presentations live and interesting.
They really did an AMAZING!!! job in both item quality and flexibility, where they really SUPER FAST!!! yes i mean REALLY FAST respond, regarding questions that i asked and they answer it thoroughly until the solution...so if i can rate 7star i'll do it. Thank You and keep up the AMAZING!!! work
I've found the presentation template and its files very useful. It's long and it takes quite a while to have a global view of what's included and to know all the ancillary files. But when you entirely realise what you've got, then it's easy to start shaping your company's presentation. The documentation included, the manuals, etc, are very good too. Hope you all find it as useful as I do.
Beautifully done! Took all the hard work out of creating a gorgeous yet professional presentation for work. I work for the DoD and everyone is SHOCKED with how great it looks.
If you want to impress everyone you work with, this is a great template to use! There are so many slides to choose from and they are all beautifully designed. Thanks for making me look good!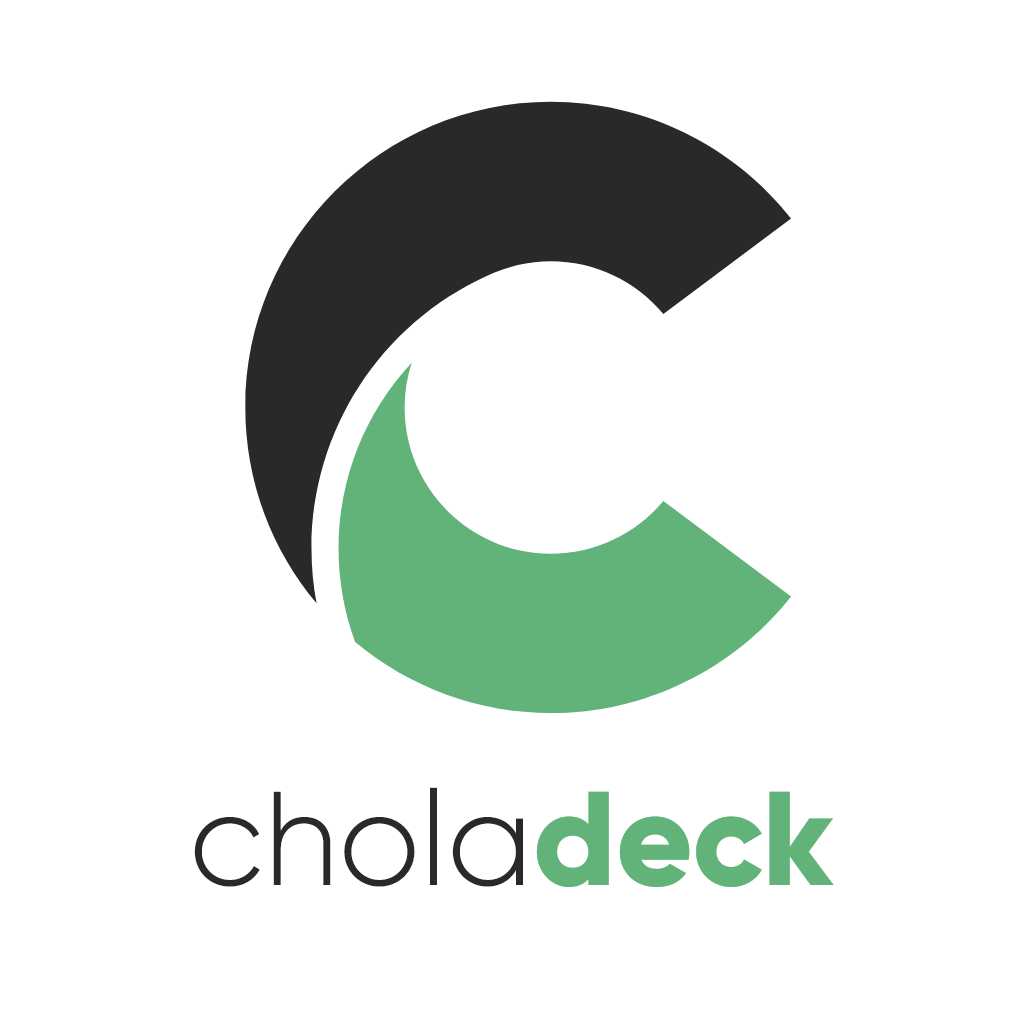 Choladeck design beautiful and easy-to-use multipurpose presentation templates so that you can create your stunning presentations for your audience. Our templates are the evolution of all presentations template that can be used to create presentations for a different type of fields such as Business, Corporate, Pitch Deck, Portfolio, Agency and many more.
We consist of 5+ professional designers who specialized in presentations and infographics. We have more than 4 years experience and completed creating 1000s of presentation slides for our clients all around the world.
We believe your idea deserves a brilliant presentation and always find a way to help you make stunning presentations easy like never before.